Congratulations to Lizz Patrick who was honored today with the Emily Warren Roebling Force Majeure Award by the ABA Forum on Construction Law for her Distinguished Service.
"The Women's Committee will be honoring, for the first time, an Unsung Heroine of the Forum. The award is given to a woman who has made outstanding contributions to the Forum and recognizes the honoree for her previously unnoted yet valuable contribution to the Forum. For the inaugural award, come celebrate the contributions of A. Elizabeth ("Lizz") Patrick."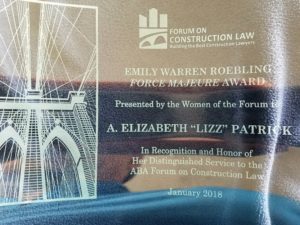 The above quote can be found in the ABA Forum Agenda linked here.